"I'm £90,000 better off in 1 year with Millen Capital"*
"I'm 16% better off than if I invested in Investec's Cautious Managed Fund
I'm 54% better off than if I invested in Barclays Wealth Global Markets Fund
I'm 61% better off than if I invested in Quilter Cheviot's Libero Fund
I'm 71% better off than if I invested in St James's Place Balanced Managed Fund
I'm 73% better off than if I invested in Rathbones Income & Growth Fund
I'm 98% better off than if I invested in Tilney Bestinvest's Growth Portfolio
And I'm 135% better off than if I invested in Brown Shipley's Balanced Fund
 …2016 wasn't so bad after all"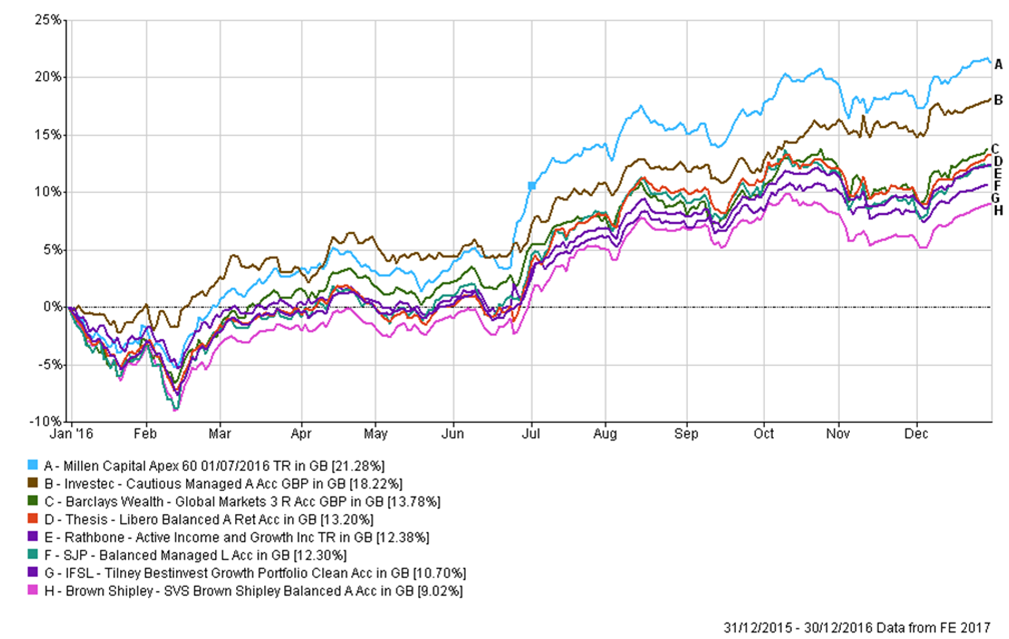 Despite last year's 'events', we nailed it.
No distractions or faffing about.
No speculating or pontificating.
We just got our heads down, kept it simple and worked hard for our clients.
As a result, Millen Capital's most popular client portfolio, Apex 60, saw a total return of 21% in 2016.**
Would you like to be better off in 2017?
Millen Capital – Straightening Out Wealth Management.
Past performance is not a guide to future performance.  Your capital is at risk.
*Millen Capital client.
**In a study of individual funds and model portfolios with a similar risk profile and asset allocation to Millen Capital's Apex 60 portfolio. Data source: FE Analytics.  Data set: weekly Total Returns in GBP for the period 31/12/2015 to 30/12/2016.  Apex 60 returns based on model portfolio, with strategic asset allocation re-balanced July 2016.   Details available on request.