Selling your business may well be the biggest financial event of your lifetime. In this blog we've drawn on years of experience of helping clients to address the big question: 'How much is enough to fund the life YOU want to live?
Too often people start with the wrong question: 'How much should I sell my business for?'
The likely results if you Google this?
–How to get the best price for your business
-Business valuation calculators
-M&A Due Diligence checklists
-How to sell your business with/without a particular broker
…AND tons of scary tax stuff etc. etc.
Let's start with something else – YOU!
There are a lot of ways to sell your business and brokers and lawyers can be quite creative. But there's no sense in spending time on options that don't align with your objectives or financial needs. So before getting wooed by complex deal structures and tempting tax-minimisation strategies, take stock of your wants and needs.
How Much Is Enough?
In its simplest form, what's the cash difference between your business-funded lifestyle now and your business-free lifestyle after sale? How can you be sure that the business has reached a value that will support future lifestyle and maybe provide a 'nest-egg' for the future?
Before going too far down the path of exploring all the ways to sell your business, first consider your goals for the transaction. Do you want to sell 100% of the company at closing and walk away with the cash? Do you want to pass the business to family members or employees? Are you willing to keep working for 3-5 years after selling all or a portion of the business? How important is it that the brand continue? What are your cash needs?
The better you understand your personal numbers, the greater your overall exit intelligence (and confidence) will become. This translates into your ability to make quality decisions throughout the process of selling your business—higher quality decision-making leads to enhanced probability of an overall successful exit.
Creating YOUR personal plan
If you are an entrepreneur approaching retirement, you might have already estimated how much you need from the sale of your business. Chances are, this is a significant sum, but calculating the actual amount to produce the income you desire can be difficult.
As a starting point your advisor at Millen Capital can help by producing a personal cashflow forecast to clarify your thinking ahead of a sale. This gives an indication of whether the potential proceeds from a sale are likely to be sufficient to fund your desired lifestyle. It will factor in various scenarios, alongside your existing investments, pensions and savings. The amount you need is often smaller than you think it needs to be!
For example, a client was holding out for a £4.5m deal that wasn't coming to fruition and the ongoing distraction and stress was impacting both her future business value and personal wellbeing. We were able to show how the final offer of £3.75m was in fact 'enough' to sell and enjoy a long and happy retirement:
Sell for £4.5m: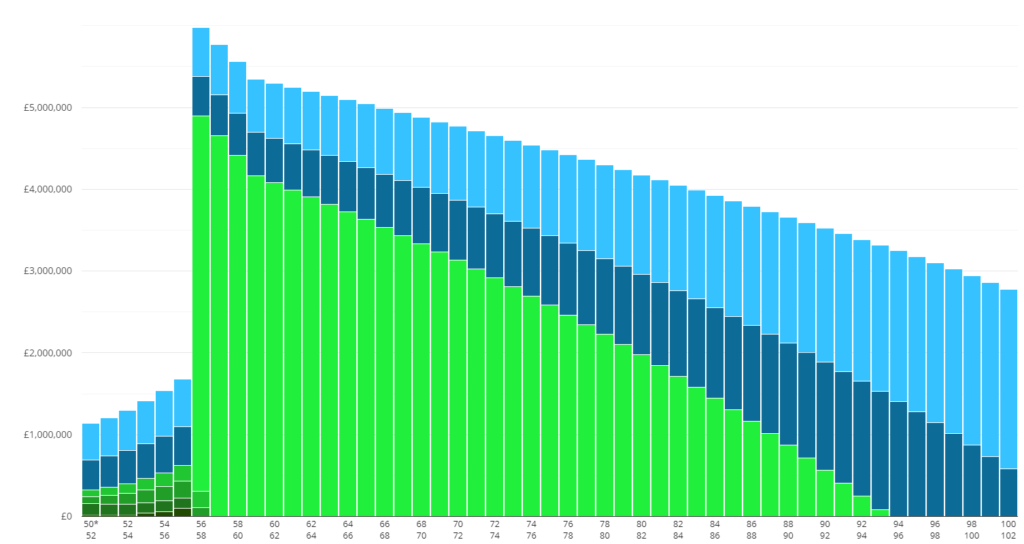 Sell for £3.75m: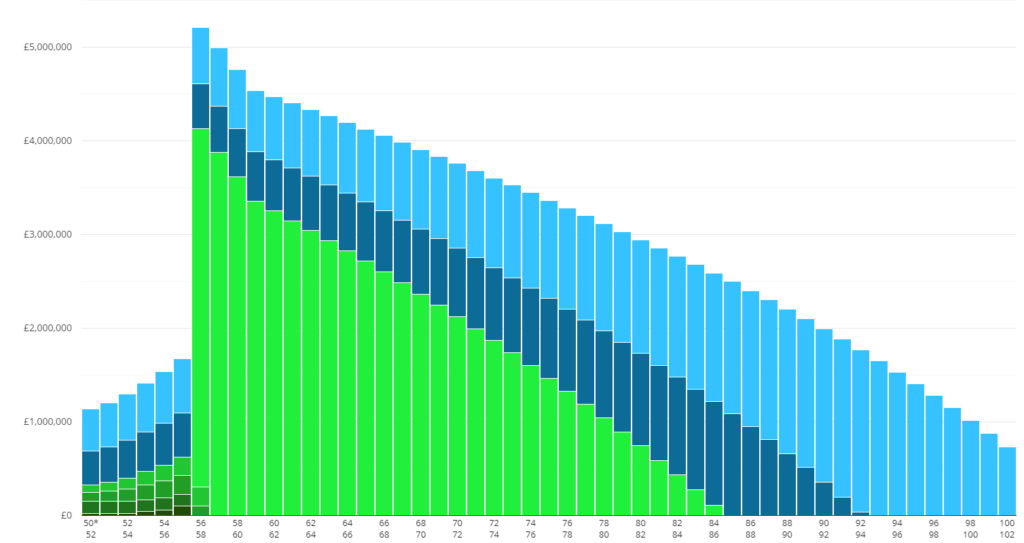 Creating your master plan will involve an in-depth look at your plans after the sale of your company. What are your income needs? Do you have plans for a major purchase? This will help determine how much cash you need from the sale of your business and whether to consider the pros and cons of arrangements like an installment sale.
A key part of deciding what to do with the money after the sale of your business is understanding your risks and options. Your Millen Capital advisor will help you to feel confident that it isn't too early to retire and 'stress test' a retirement plan, for example using a Monte Carlo simulation to account for market volatility.
It's a BIG deal
Your business may be your most valuable asset. Have you given any thought to how you will invest the proceeds to make sure you have adequate assets to reach other long‐term financial goals such as individual and family estate planning?
It's easy to put off the daunting task of what to do with perhaps the most significant single influx of funds in your working lifetime. You are likely the leading expert at predicting the income your business would yield, the amount of risk in the market, etc. But do you have a post‐deal personal financial plan in place that considers the following?:
-How the proceeds should be invested to replace the income you enjoyed from operating the business, taking into account your personal risk tolerance.
-Whether you should take more cash at closing or consider an earn‐out period. If so, how long should the earn‐out period be?
-If the tax liability associated with the deal should be paid now or deferred.
-How will you fund the tax liability associated with the deal?
Is there a danger I will settle for less if I know I NEED less?
Deciding to sell a company you founded or helped build can feel like riding an emotional rollercoaster. You may feel that you don't want to get emotionally attached to having the deal close as it may weaken your ability to negotiate the best terms. Or you are tempting fate by planning what to do with your hard-earned cash.
It's natural to become excited about life after the sale as you get closer to having your deal close but this doesn't mean you will be less objective in your negotiations.
As a great man said:
Knowledge is power. Knowledge shared is power multiplied. In a time of turbulence and change, it is more true than ever that knowledge is power. Kennedy, John F. (1963).
What if the deal is NOT enough?
The use of financial forecasting can also determine your other options. These may include, for example, the impact of working for a few more years, or cutting your retirement spending to meet any shortfall from your business sale.
Bear in mind that spending typically falls in retirement. There will be bills you will no longer need to pay when you stop working, with mortgages and loans typically paid off, and other unnecessary costs that could be cut. You may also stop paying into your pension, and ploughing money into the business. So trimming your spending could be a relatively simple process.
You might have other investments and pensions alongside your business that may be used to fund retirement. For example, these could include ISAs, individual shares, savings, and other assets, and you may also be entitled to the state pension in retirement. With careful management and advice, you can maximise your various tax allowances in retirement, and receive a higher income than you may have thought.

Why it's REALLY good to talk
Sudden wealth can shape the dynamics of relationships, especially if it's a large windfall. How are you going to respond when family members ask for money? How will this impact friendships?
People could ask, "Are you still going to work? Are you going to move? What are you going to do with all that money?" They also might say, "Must be nice!" or, "I have a great investment (or business) for you!" We regularly help clients prepare for these tricky conversations!
After all the hard work of helping to build a company and achieving success and fortune from its sale, what a shame it is to squander that wealth, or for it to ruin family relationships. The good news is that this doesn't have to be your fate. For those who take the time to process their emotions, communicate effectively and define values and legacy going forward, the wealth — and the impact of that wealth — can last.
Next steps
As a business owner, your focus has been on running and growing the company. When selling your business, it's imperative to take steps to plan for your personal financial future.
We've just published 'Selling Your Business? written for business owners. Download it here
We will help answer the BIG QUESTION:- If you SELL, will it be 'ENOUGH'?
Please get in touch if you'd like our help.